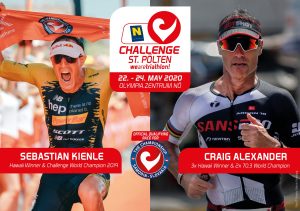 On May, 24th 2020 there will be a special showdown at the middle distance triathlon in the heart of Lower Austria. Sebastian Kienle and Craig Alexander are going to challenge the Austrian top athletes on Austrian soil. The other professional field is also worth seeing.
It will be a battle of a special kind. Sebastian Kienle and Craig Alexander will challenge numerous international and Austrian professional triathletes on May 24th 2020 in St. Pölten. Kienle is Hawaii Winner 2014, Hawaii Third Place 2019 and Winner of the Challenge World Championships 2019, but this is only a list of the current successes of the German professional triathlete. The whole list is much longer. "St. Pölten is one of the most important and oldest races in our sport. It's a shame I haven't been there yet. All the more I am looking forward to a great race in St. Pölten this year."
The situation is similar with Craig Alexander. The Australian is the oldest long distance world champion in history, has recorded more than 50 victories in his career on long and middle distances and is known as one of the most successful athletes in the triathlon scene. He has been at the top of the podium three times in Hawaii. In recent years, things have become quiet around the now 46 year old. He announced his retirement from full distance triathlon racing a few years ago. " This year I really wanted to race in Europe, a continent where so many great triathletes call home.  I've never raced in Austria but did race in Europe in the late 90's and have always loved the race culture and especially the courses.", says Craig Alexander. " I am excited to be lining up for the Challenge in St. Pölten in May.  The timing of this event is perfect for me and I have only heard awesome things about the event and the region." As ambassador of the Challenge St. Pölten Triathlon he not only proves a special honour to the race but also to all athletes.
Organizer Christoph Schwarz is looking forward to the start and the battle of the legends. "Each of the athletes is unique, each has his strengths and weaknesses", says Schwarz happily. "I expect an exciting battle. And who knows, maybe someone else will succeed in stirring up the field and making an exciting race." With Nils Frommhold, Ruedi Wild and Andi Böcherer there are some more well-known athletes on the starting list for the Challenge St. Pölten. From an Austrian point of view, in addition to Thomas Steger and Christian Birngruber from the PEWAG Racing Team, Martin Bader, Paul Ruttmann and Christoph Ladits will be lining up on May, 24th. Steger, who narrowly missed out on victory in St. Pölten last year, also wants to be among the front runners in 2020.
The organizers are also looking forward to an exciting race in the women field. With Natascha Schmitt, Caroline Lehrieder and Anna Lena Pohl, three German athletes are fighting for the podium. They are facing headwinds from Great Britain from Kimberley Morrison, Chantal Cummings and Claire Hann.